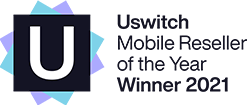 Free Delivery
Delivered 7 days a week.*
1-Month Free Insurance
Available on mobile phone deals.*
UK Customer Support
Available Monday to Saturday.
Best Three Sim Only Deals
Low cost sim only deals on Three with lots of data.
Three SIM only deal benefits
If you love your current mobile and couldn't think of anything worse than parting with it, a SIM only deal is perfect. The short contract periods and lower monthly cost mean you'll be saving money without even realising. Get your SIM only deal with Three and get instant access to an award winning network with huge data deals for lots of browsing, top roaming plans for those trips away, and huge network perks with lots of freebies.
live life in the fast lane with Three
Hold tight and buckle up people. Three offer fantastic 5G SIM only deals that bring you incredible speeds and deliver faster downloads, better streaming, and more responsive gaming – even in places with lots of people! They've launched 5G in the busiest towns and cities up and down the UK so you can access 5G when you need it the most.
---
enjoy your holidays with Three
We all love a trip away whether it's a sunny trip to Spain or an adventure holiday in the states. With a Three SIM only deal, you can use your minutes, texts, and data in over 70 countries, at no extra charge.
---
go underground with Three
With a Three SIM only deal you an enjoy internet access, even when you're on the London Underground. Your daily commute is about to get an extreme glow-up as Three offer you access to speedy WiFi. Check Facebook, reply to emails or watch the morning news as you travel.
Find the perfect SIM Only deal for you
All pay monthly offers subject to security and credit check. Charges will apply for paper billing. Charges may also apply for non-Direct Debit payment, unless on the EE network. Promo codes cannot be used in conjunction with any other offer. Full Legals.
† RPI+/CPI Price Increase - Each year, your Pay Monthly airtime tariff will be adjusted according to a Fixed Annual Price Change (Three), RPI+ (O2) or Consumer Price Index (EE, Vodafone) rate of inflation. Your bill will be adjusted in March (EE) or April (O2, Three, Vodafone) by 4.5% (Three), or the rate announced in January (EE, Vodafone) and February (O2) that year (plus 3.9% on EE, O2, Vodafone).