the best UK towns and cities for mobile signal
It's the battle of the best 4G and 5G coverage. We've put major UK cities, staycation destinations and 'coverage blackspots' to the test to find out once and for all where you can get the best signal on your mobile phone.
We've pulled together data based on general 5G and 4G signal as well as the coverage rating on the best devices that the mobile market is currently offering. Whether you're thinking about a holiday with lots of photo opportunities or fancy getting off the grid, we've got all the data you need to start making plans. Check out the full findings here:
major cities
As expected, London, Birmingham, Belfast, and Cardiff took the crown and ranked amongst the cities in first place for signal rating, all scoring a whopping 4.2 out of 5, based on general 5/4G signal.
Samsung and Apple users can put away their pitchforks as a key finding in our research is that there was minimal difference in signal between the latest iPhone 12 and the impressive Samsung Galaxy S21 – likewise with the Google Pixel 5. Customers can have faith that no matter which flagship device they go for, the signal will be ready and waiting.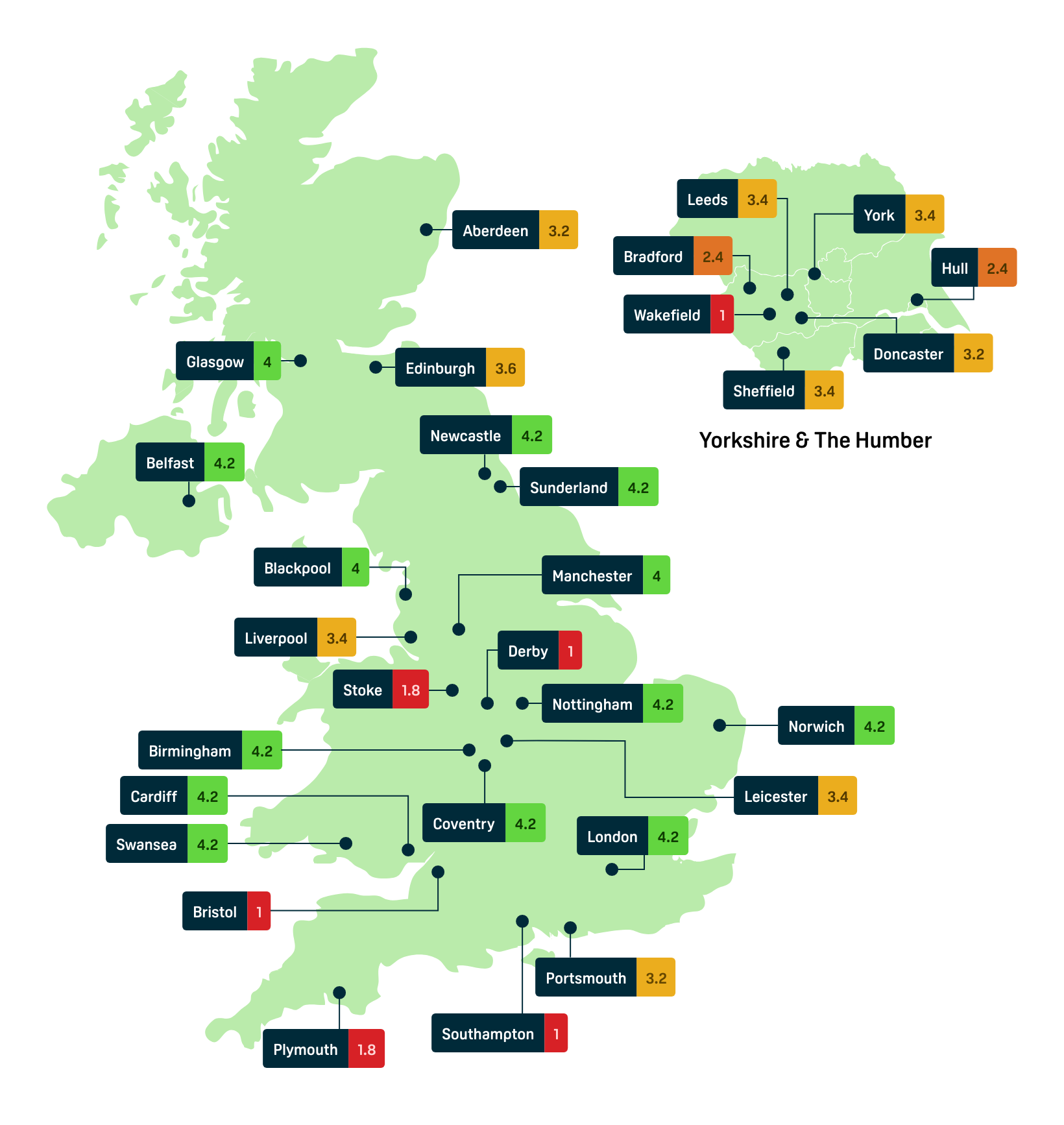 Surprisingly, research found that despite not being considered one of the 'big UK cities' in by population or square miles, Norwich, Coventry and Plymouth all scored 4.2 out of 5 for signal strength. Likewise, Newcastle, Sunderland and Nottingham did it for the Northerners and made up the remaining top 10 cities.
Hull had a recent stellar performance on the football pitch, and it seems they excel just as much in the signal strength field. The city showed very promising 4G coverage, but it's worth noting that some devices showed lower 5G coverage, which brought their rating down to a surprising 2.4.
We were shocked to see Bristol (one of the UK's most populated cities) ranks joint last for signal strength with a disappointing score of 1 out of 5. Joining them at the bottom of the list is Southampton, Wakefield and Derby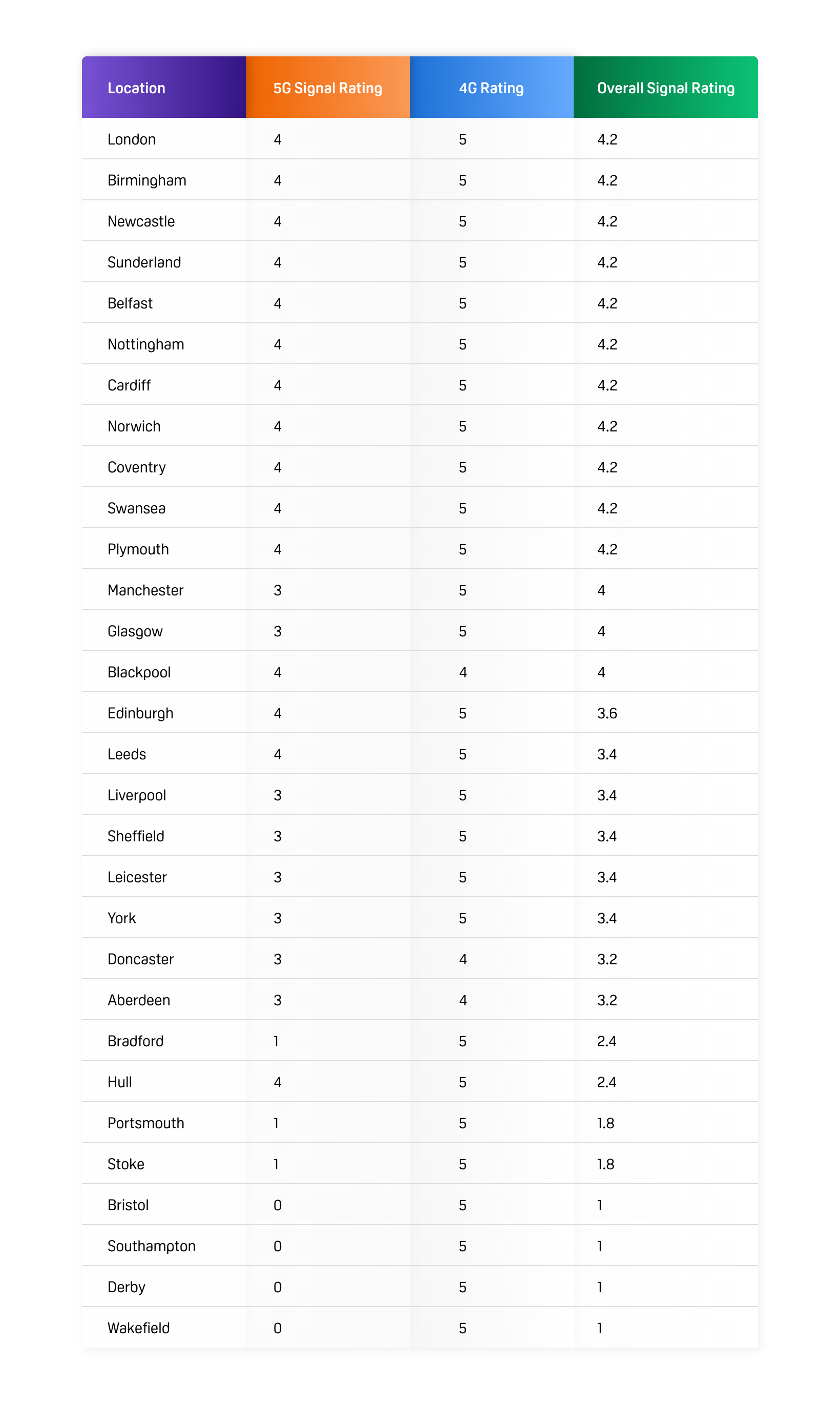 popular staycation destinations
A great holiday doesn't always start with an airplane, there are lots of hidden beautiful staycation destinations around the UK. If you're looking for somewhere with lots of signal, Bath and York come out on top. This came as no surprise as they are the most populated and urbanised locations.
For those more off the grid trips, our research found that the Lake District and Snowdonia are poor for signal strength as both came out bottom of the pile. This is not surprising as both areas are national parks and some of the most rural, mountainous places in the UK – perfect for long walks but maybe not for catching up on an episode of your favourite show.
A large portion of the staycation destinations that we researched had a rating of 2.5 out of 5, which considering how rural most are, should be seen as a success for networks. The Yorkshire Dales, Isle of Skye and Loch Ness are minimally populated areas when you compare them with the rest of the UK which again reflects how much phone signal has improved over the years.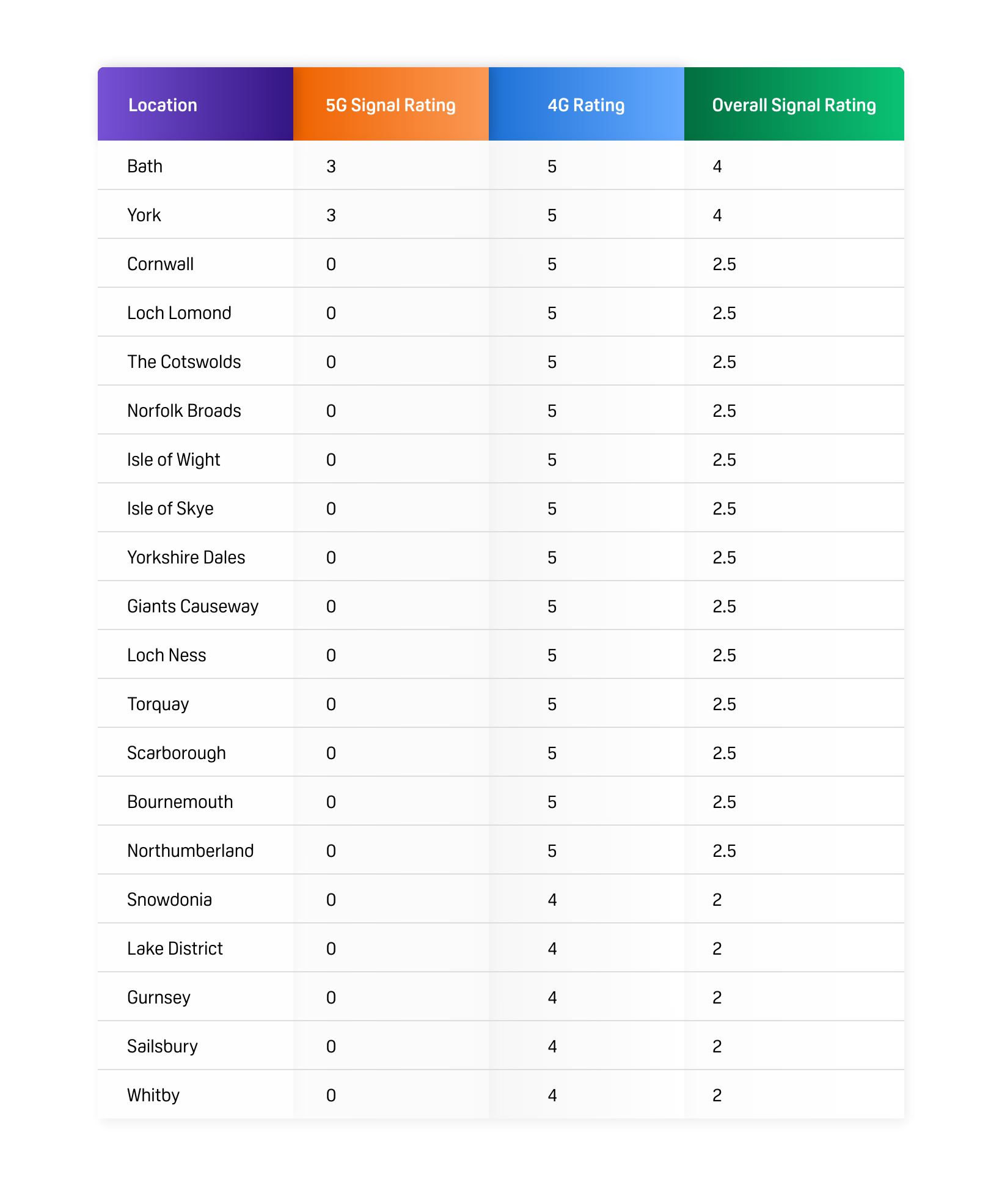 coverage blackspots
Some of you may be looking for trips away that totally eliminate the chance of your little ones spending time glued to TikTok and we've got the answers to your prayers. Although the UK already has very established signal coverage, there are some areas where signal levels are zero – also known as 'blackspots'.
Some of the blackspots outlined on the map (below) may be seen as 'obvious' areas where you'd expect no coverage, like the 3 Shetland Island locations for example.
Although the average mobile is able to get at least some coverage throughout the UK, there are some areas where signal levels are zero. These are known as 'blackspots' and because of the investment, growing demand and advancement in technologies, they are now minimal across the country. Other blackspots are more shocking like Ettrick, in Scotland, and Rosedale Abbey, in North Yorkshire, as despite being rural, coverage can be found in locations within a stone's throw of these areas.
With investment continuing around the UK, we can expect it to have as near to 100% as possible coverage in the future. 5G is still being rolled out across Britain which should speed up all things mobile. The future is 5G people.
You can view all our best deals on the latest 5G handsets here.